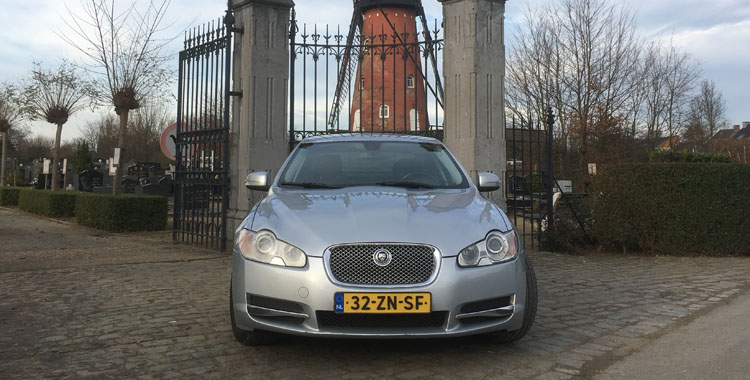 My Daimler Six is in the workshop for maintenance this week, so I am driving a 2008 Jaguar XF 2.7d Luxury. She has a little over 300k on the clock and is eight years old. The Luxury was the entry level in 2008 and if I browse through the owner's manual, I don't get the impression that a lot of optional extras were ordered on the car. In 2008 all XF's were equipped with leather upholstery, automatic gearbox, wood veneer in combination with brushed aluminum and a 6" display. This car is equipped with a optional satellite navigation system. Painted in silver metallic and with a black interior she has a decent but not very exciting appearance.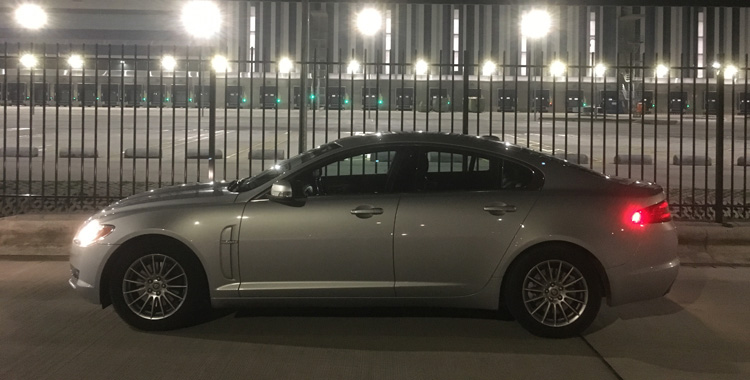 The interior of the Jag is very relaxing. The dash lay-out is simple. You got a cluster with the speedo, rev counter and a message display. You got a led screen with basic audio and climate controls buttons underneath and the center console with the Jaguar Drive. The most used settings of the sound system and the climate control are operated by a set buttons under the touchscreen and the less used functions are operated on the touchscreen. This keeps the dash simple and easy to use. The touchscreen is easy to use and works as you expect it to. The lay-out is maybe a bit outdated, but it is a 2008 car. I even wonder why car companies bother to design complicated controls and mouse like contraptions (Lexus), when in todays world touchscreens are the standard for everything else.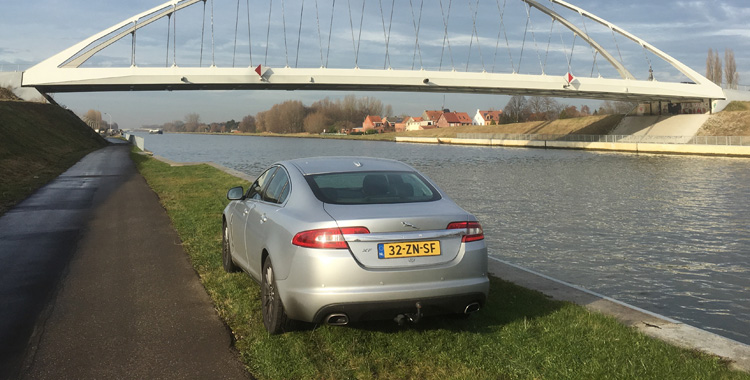 A drawback I found, was that if you drive away on a cold morning and switch on the windshield defog function, it will switch to auto when you turn off the defog function. I would expect it to go back to the previous setting. Also the seats are a bit disappointing. They do give good support in all directions and after a 90 minutes' drive I feel as relaxed as I did when I got in. The thing is, they feel like sitting on aunt Aghata's kitchen chairs. When I sit in my Daimler, it feels like I sit IN the seat and not on it, like the XF.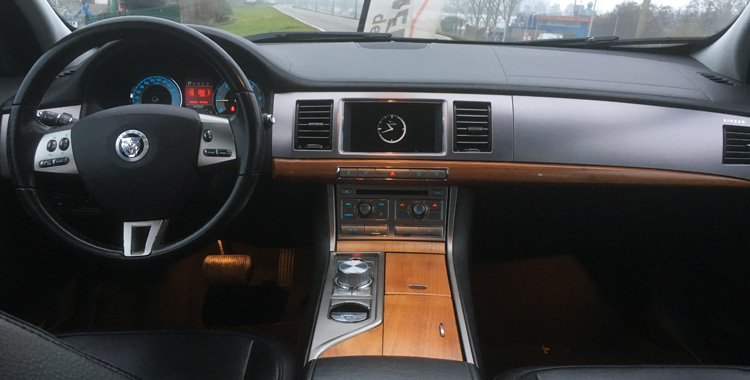 It has some unusual gimmicks. The air vents are closed when you get in the car. When you start the car, they will rotate 180 degrees to open. Very nice, but the first thing that comes in mind is, "when will these going to break?" And in this car, one already was broken. But no problem, you can deactivate this gimmick. Another gimmick is the Jaguardrive selector. It is the gear selector, which will come out of the center console, when you start the car. It works rather need. When you start the car with your middle finger, it will push its way into the palm of your hand and you can select the gear you want. It might read a kind off naughty, but isn't that what Jaguars are?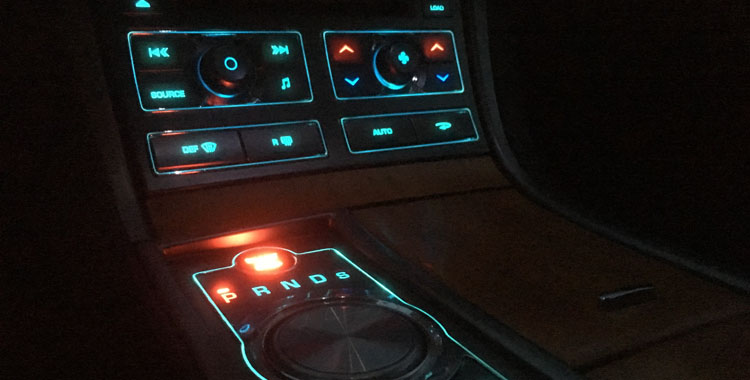 The ride is what you expect from a Jaguar. Sporty in a comfortable way. It has the understructure of the old S-type, but the suspension of the XK. It feels stabile and relaxed on higher speeds and feels very direct in corners. When driving 100 km/h it is very quiet, comfortable and relaxing. As mentioned above, I have been driving the 6 cylinder diesel. It is a twin turbo V6 engine with 2.7l displacement and 204 bhp. Normally, it does its work quietly. Only, when you expect a lot of performance of it, you will hear it. It should do 0 to 100 km/h in about 8 seconds and I have no reasons to doubt that. It will reach 200 km/h in a very reasonable time and should go on towards to 235 km/h. It all happens in such a quiet and comfortable way, that you hardly notice you are driving that fast.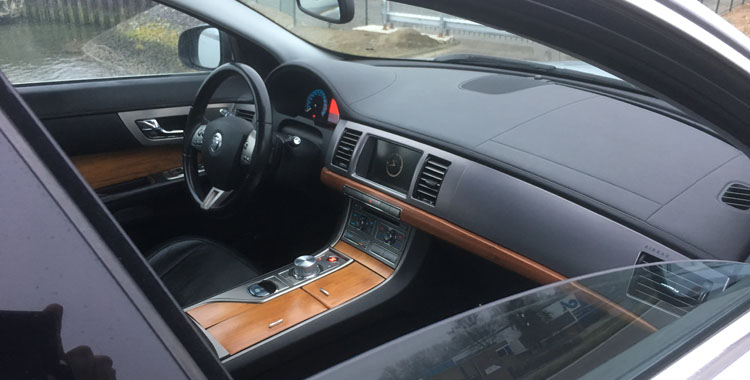 The automatic gearbox works great. If the selector is in D, it sometimes sort of delays before shifting to a lower gear of when you drive off. This does not happen when driving in Sports mode. All XF's are equipped with flippers behind the steering wheel. For me it was a first to drive with and I found it a nice alternative for the kick-down function. I must say, I didn't found the need, to drive the Jag manually.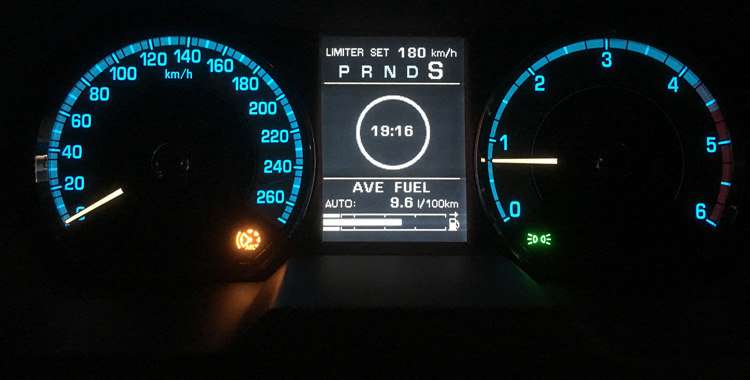 And then, there is an exterior. I remember, that there was a lot of criticism on the design, when it came out in 2008. A did not look like a Jaguar. Well, if you mean it did not look like the cars of the National Trust, then you are right. But those cars were a design revolution back in the fifties and sixties and this was that 2008. That having written, I had to get used to it as well. But it really helps to just get it and drives it. If you get out and walk around it, you will see how beautiful the back is designed. And how beautiful it looks from the side. The big grill is of course a reference to the XJ6 s1 grill. And then there are the frowning headlights. Some say, that Ian Callum said they referred to the XJ-S. Well, maybe I have to look again.